Discover more from Cheryl Strayed's Dear Sugar
This is the home of two newsletters by Cheryl Strayed. Paid subscribers receive Cheryl's Dear Sugar Letter once a month (both audio & written), and her regular newsletter several times a year. Free subscribers get her regular newsletter only. Thanks!
Over 90,000 subscribers
Hello friends,
I hope you're having a wonderful summer (or winter, if you're in the southern hemisphere)! The highlight of my summer so far was braving the exceptionally cold water to go for a swim when we were visiting friends on Gabriola Island in British Columbia earlier this month. It was the kind of cold that makes the bones of your feet ache. The sort that makes you think absolutely, no way am I getting in! And then you get in and it's like the best thing you ever did (and even your numb feet agree.)
I hope you have a little spot of that in your season, whatever it may be. A little something that you resist and then surrender to with joy and gratitude.
Today I'm sharing the second installment of an occasional series I do in which I invite an author to tell us five things—not only about their most recent book, but about their life too.
I first met Wendy Chin-Tanner in 2016, when we joined forces to organize a rather amazing Writers Resist event in Portland, where we had a blast with our writer friends while also raising a bunch of money for several great local nonprofits. Wendy is an immensely talented poet and the author of two beautiful poetry collections (you'll find the links to them below) and now—today!—her first novel, King of the Armadillos is being published. Ernesto Mestre-Reed called the book "a lambent and poignant debut" in his review in the New York Times and to that I'll add brilliant, absorbing, and powerfully moving. Just like her answers below.
xCheryl
Tell us about a time when you took advice that turned out to be really good or really bad.
Shortly after moving to Portland, Oregon in 2012, I met Lidia Yuknavitch, whose book The Chronology of Water had helped me stay afloat through two consecutive miscarriages, at the Ooligan Write to Publish Conference. I hung on every word of her talk on creative nonfiction before waiting on a long line to speak to her.
When it was my turn, I told Lidia what a superfan I was and then proceeded to blurt out something like, "I mostly write poetry, but I have this weird idea for a prose project. It's about a leprosarium in Louisiana where my dad was a teenage patient in the 1950s. You're probably thinking One Flew Over the Cuckoo's Nest, but it was actually this incredibly progressive, complex, and diverse place. The problem is, I don't know if it's creative nonfiction or fiction, and I don't know if I have the chops to pull off either one. What do you think I should do?"
"Holy fucking shit!" said Lidia in her wonderful Lidia way. "You absolutely have to write this because you're the only person who can. And believe me, the story will tell you what it needs to be."
Since my project was based on my family history and my dad's experience at Carville, I had access to an incredible wealth of material from the National Hansen's Disease Programs Museum and my dad himself. Drawing on my academic background in social science, I set about my research using some of the methods I'd been taught. But as I sat down to write, I found myself overwhelmed, not only by the abundance of information, but also the burdens of authenticity and personal responsibility to my dad and the Carville community. To meet the challenges of adapting so much biographical and historical material of such a sensitive nature, I had to find a way to balance the need for historical accuracy with creative license.
I started out with nonfiction because it seemed like the most obvious genre for the story, but especially around Victor, my young protagonist, I couldn't find the spark that would bring him to life. He was too close to my dad, and so was I.
My aha moment came when I hit a dead end in my attempts to portray Victor's musical awakening as a non-musician myself. In desperation, I tried an exercise where I translated my own relationship with writing—my discovery of poetry and how the music of the words came to me when I wrote—into Victor's relationship with playing the piano, singing, and composing songs. Suddenly, magically, Victor came alive.
Lidia was right. The story was telling me it was fiction even though I'd never written any before. But if I was going to trust the story, then I'd have to brave enough to try. In the five years and twenty drafts it took to teach myself how to write a novel, I thought about what Lidia said many times. I thought about giving up many times, too, but somehow, I didn't. I let her words keep me afloat as I swam across a sea of self-doubt. The result is my first novel, King of the Armadillos.
Tell us about a regret you have or a mistake you've made.
I went to college in England and in my senior year, I published a poem in a literary journal where London agents often look for new authors. As an aspiring poet, I wasn't expecting anything, but at the launch party, an agent approached me about representation. I couldn't believe my luck. I was thrilled to be chosen, so thrilled that it didn't occur to me that I had a choice, too.
I grew up in Brooklyn, NY in a working-class immigrant family and was a first-generation college student, so I was used to figuring things out on my own. But I was only twenty-two and I didn't know my ass from my elbow even though I thought I knew it all. I should have asked for help from my mentor at the English Faculty, but I was too proud. I was already embarrassed about all the other ways he'd helped me through the years.
Even though a poem was what had caught the agent's interest, he said he couldn't represent me for poetry since there was no money in it. Instead, he was looking for "the next Amy Tan" and/or "the American Zadie Smith," though he'd consider a script if I couldn't write a novel. None of this felt quite right to me, but I figured he was the expert and I'd better give him what he wanted. I thought this guy was my only shot at becoming a professional writer and had no idea that I was entitled to shop around. Treating him like a professor instead of the business partner he was supposed to be, I did my best to come up with something he considered worthy of representing. Since I'd done a lot of student theater plus a student film, and had worked as a production assistant on a movie set the previous summer, I decided to try to write a screenplay.
A few months later, when I sent him some pages from my work-in-progress, a story about a photographer in 1970s NYC, he told me it was unsellable because the protagonist was a Chinese American man.
"Audiences won't identify with a character like that," he said. He suggested either making the photographer a woman or a white man with an Asian girlfriend, or writing something else altogether.  
Because the script explored issues of Asian American culture and masculinity, I couldn't bring myself to change the story and, demoralized, I couldn't think of another idea either. Nadxi Nieto, my editor at Flatiron, calls this phenomenon "catch and kill." She says it happens a lot, especially to young authors of color.  
"Ring me up when you've got something better to show me," the agent said.
I never called him again, but that probably wasn't a mistake. We were clearly a bad match. My mistake was that I didn't reach out to anyone else either.
When you're applying for a job, it's generally a good idea to interview at a bunch of places to find the right fit—not just how you fit with them, but also how they fit with you. I know now that the same rule of thumb applies when you're looking for an agent. Some writers say it's like dating because you have to kiss a lot of frogs before you find your prince or princess. But I didn't understand that at the time.
Instead of saying, "Okay, this isn't for me, but something else will be," I saw what happened as a personal failure. I was simply devastated to have lost the opportunity. Instead of knocking on more doors, I took what this agent said as a sign that I wasn't cut out to be a writer after all, and I'd better find something else to do with my life. I thought I'd blown my one big chance and now my dream was dead.
Internalizing my disappointment as shame, I followed its voice into a tunnel of creative silence. Whenever I thought about writing, it was so painful that I didn't want to be around anything that reminded me of it—of what I'd lost—anymore. I went back to graduate school in sociology, a different field entirely, which I don't regret in and of itself, though I regret the reason. Because shame told me I wasn't good enough, I didn't just turn away from writing. I also turned away from the support system I had at the English Faculty where I'd gotten my first degree.
I realize now that beneath the voice of shame, fear was whispering, too. I was so afraid to fail that I interpreted one man's no as a massive, life-altering failure. Listening to shame and fear led me to believe that I couldn't do what I loved. But thankfully, that story didn't turn out to be true.  
Tell us about a personal transformation in your life or a change that you've made for the better.
I'm kind of a control freak even though I know that control is illusory. It's an old coping mechanism from childhood. I've been working on this aspect of myself for decades, but nothing could have prepared me for the massive earthquake that motherhood triggered in my life.
From the moment I started the process of becoming a mother, I couldn't control jack shit. Not the pregnancy, which was tough. Not the labor, which was eighteen days late. Not the birth, which was long and hard because my baby was posterior. And certainly not what came after I took her home. As a new mother, I felt like I was failing in one way or another eleventy-billion times a day, but this wasn't a job I could quit. I had to keep mothering because my baby needed me.
In the first few weeks, I kept screwing things up. My baby was colicky and wouldn't sleep, so I didn't sleep either. I had every breastfeeding issue under the sun. I couldn't stick to any of the routines in the baby books, because none of them seemed to work. But with practice, little by little, I developed more skills and things got better. After a few months, I was beginning to see that as long as I kept showing up and trying, my baby would be fine. I was learning that I could feel like I was bad at something and do it anyway.
Meanwhile, in my trippy, sleepless state, clusters of sounds, words, and images were starting to bubble up in my head and sometimes, I'd remember to jot them down on pieces of scrap paper—old envelopes, the backs of receipts, the margins of utility bills. They were only scribbles. No big deal. And I was too tired to care if the writing was good or not. I just wanted to keep a record of my thoughts from the first year of my daughter's life. But when I decided to type them up on a Word document, some of the lines sounded like snippets of poems.
Somehow, motherhood had shaken up my ego and broken down my fear of failure enough to end ten years of writer's block. In retrospect, I'm surprised that I didn't freak out at this point, but the stakes felt so low that it didn't seem to matter. I kept collecting my fragments, transcribing and arranging them on the computer, and discovering narratives and meanings within them. Before I knew it, I had a whole pile of poems. And eventually, some of them wound up in my first poetry collection, Turn.
The wonderful poet Dorianne Laux once told me that submissions were "scut work" that you had to send out reflexively, without getting hung up on what would happen, because rejection was way more common than acceptance. Turn was rejected more than fifty times before it found a home at Sibling Rivalry Press. That wasn't an easy lesson, but it taught me that accepting the vulnerability of potential failure is part of the job of being a writer and, I think, of any job, including being human. Because the truth is, you can feel like you're bad at something and do it anyway.
Tell us about your new book, King of the Armadillos.
Set in the 1950s in NYC and Louisiana, King of the Armadillos tells the story of a young Chinese American immigrant named Victor Chin. After emigrating from China as a little boy, Victor is a high schooler living in the Bronx when he's diagnosed with Hansen's disease, commonly known as leprosy. Since he needs surgery and extensive treatment, he's sent to a federal leprosarium in Carville, Louisiana, to be quarantined until—or unless—he's cured. At first, Victor feels like he's been banished, but he soon finds a community of patients who become his friends, mentors, and rivals. As his body begins to heal, he falls in love for the first time and discovers his calling as a musician. But when the chance of getting well and going home becomes a reality, Victor must make some difficult choices. 
King of the Armadillos is a coming-of-age story but it's also the story of a complicated Chinese American immigrant family that was inspired by my own. Like Victor, my dad also had to leave my grandmother behind in China when he went to live with my grandfather at the back of the laundry he owned in the Bronx. And later, in 1954, just like Victor, my dad was diagnosed with Hansen's disease and sent to Carville where he stayed until he was cured in 1963. It took me five years to write this book, but in many ways, I'd been working on it for my entire life because Carville is a part of who I am.
Leprosy is probably the most stigmatized and misunderstood disease on earth. One of my goals in writing this book was to challenge both its medical stereotypes and its tendency to dehumanize its sufferers by reducing them to their illness. By portraying Victor and his Carville friends in the full breadth of their humanity, I hope readers will see that they are, just like the rest of us, far more than their circumstances.
The book challenges other stereotypes, too. We don't usually think of institutions as places where love or art can blossom. And we don't usually think of Chinese laundry owners as romantic protagonists. But why not? One thing about Victor's father, Sam, is that he's smoking hot. That's just part of who he is as a person. Sam is still technically married to Victor's mother, but for many years, he's been in love with a Jewish woman named Ruth, who helped him raise Victor. Spoiler alert: their relationship hits some obstacles.
King of the Armadillos asks three core questions: How do we define family? How do we negotiate other people's needs with our own? And how do we heal from trauma?
Victor's had a tough life. He's experienced war, famine, immigration, family separation, racism, poverty, and of course, illness. From a young age, he's learned how to roll with life's punches. His resilience and coping mechanisms have enabled him to survive, but as we all know, most coping mechanisms become maladaptive over time. At Carville, Victor's journey to wellness is intertwined with his journey as an artist. While he's healing from his illness, he's healing from his trauma, too. 
Folded into Victor's story is a conversation about how disease stigma has been historically associated with anti-Asian hate. This is, of course, a nightmare that we're reliving again today. But I really believe that if we can understand the past, then we stand a chance of creating a better future.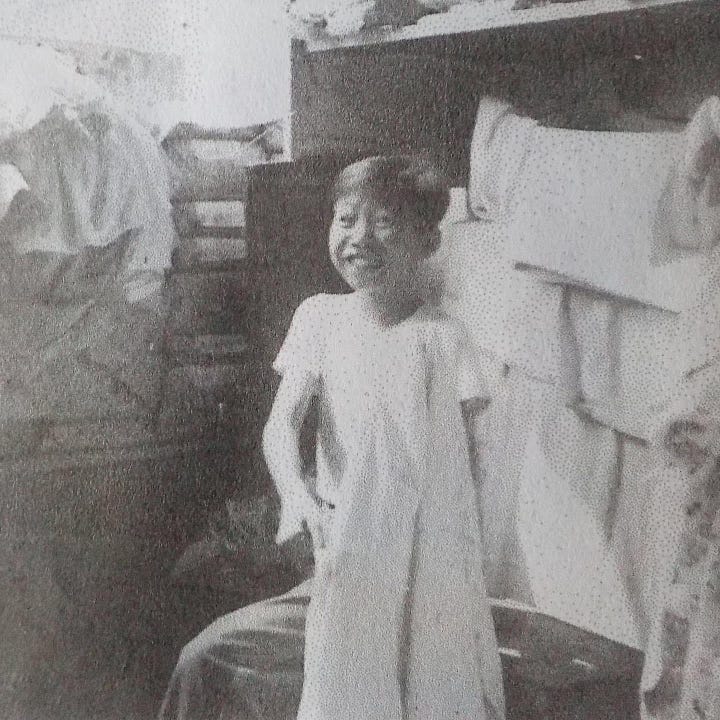 Tell us your best advice.
I don't know if I'm a position to offer advice to other people, but I can tell you what I tell myself pretty much every day.
Pace yourself. Your life isn't a race. And rest isn't stagnation. It's a necessity. Learn yourself and then try to get out of your own way. Positive change comes after you accept yourself as you are. Practice self-compassion even if it feels intolerable. You'll get to where you want to go more easily when you're not tripping over your feet. Embrace failure as part of the trial and error of living. You have to run a lot of failed experiments before you find what works.
---
Wendy Chin-Tanner is the author of the novel KING OF THE ARMADILLOS and the poetry collections TURN, which was a finalist for the Oregon Book Award, and ANYONE WILL TELL YOU. She is the editor of EMBODIED: An Intersectional Feminist Comics Poetry Anthology, co-author of the graphic novel AMERICAN TERRORIST, and co-founder of A Wave Blue World, an independent publishing company for graphic novels. Wendy's poems and essays have been featured in numerous journals and publications including the Academy of American Poets, The Rumpus, The Collagist, Salon, Gay Magazine, and DAME Magazine. She was a founding editor at KIN Poetry Journal, a poetry editor at The Nervous Breakdown for over a decade, and staff interviewer at Lantern Review. Born and raised in New York City, Wendy was educated at Cambridge University, UK where she studied English Literature and Sociology. She lives in the Hudson Valley with her family.